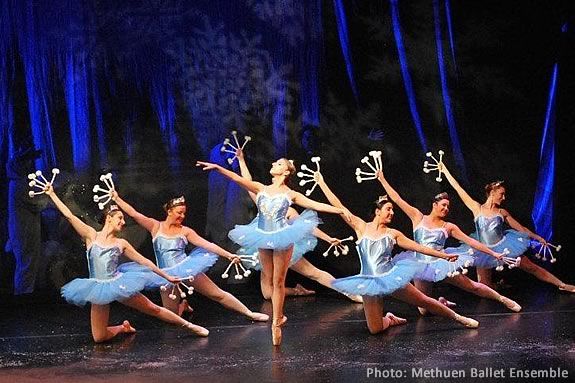 Long a traditional favorite, Methuen Ballet Ensemble brings the holiday classic, "The Nutcracker" to Firehouse Center for the Arts in Newburyport, Massachusetts. Join us for this very special production of Methuen Ballet Ensemble's The Nutcracker.  Methuen Ballet Ensemble, an established local ballet company under the artistic direction of Vanessa Rae Voter, has staged The Nutcracker for over twenty-five years.  
Principal roles are performed by members of Methuen Ballet Ensemble, whose experience totals over 150 years of classical ballet training under Ms. Voter's tutelage. This year's production will also feature Guest Artist James Kramlich of Portland Ballet in the roles of Snow King and Sugar Plum Cavalier.  Mr. Kramlich has been a Company Dancer with Portland Ballet since 2014.  Notable roles with the company include Party Scene Jester Doll, Nutcracker Prince, Russian Lead- The Victorian Nutcracker; The Soldier In The Body- Nell Shipman's Armed Man: Mass for World Peace (role was choreographed on James); Egaeus- Berenice- Three Tales By Poe Triple Bill; Ichabod Crane- Nell Shipman's The Legend Of Sleepy Hollow; Von Rothbart- Swan Lake Act II; Hilarion- Giselle.
Come share in the magic of Methuen Ballet Ensemble's The Nutcracker and introduce your family to the joy and spectacle of this classic dance event!
When:
Gala Reception and Show: Saturday, November 24, 2018 6pm
Saturday, November 24, 2018 3pm
Sunday, November 25, 2018 1 & 4pm
Prices:
Evening Performance with Gala Admission: $28
Matinee Admission: $26