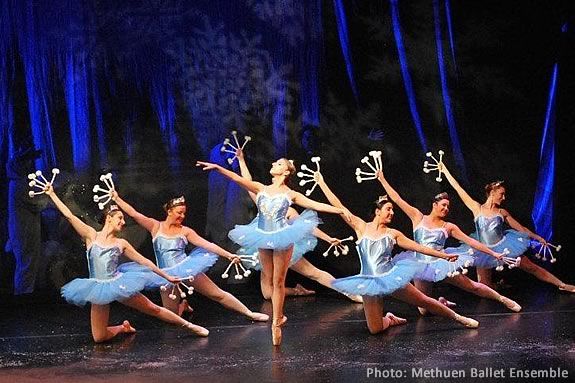 Long a traditional favorite, Methuen Ballet Ensemble brings the holiday classic, "The Nutcracker" to Firehouse Center for the Arts in Newburyport, Massachusetts. The company is thrilled to announce that world renowned ballet dancer and choreographer Sabi Varga will be joining this year's production. It is not to be missed! In addition to dancing in the production, Mr. Varga will be tapping into his creative and artistic talents as guest choreographer for select scenes!
Mr. Varga trained at the Hungarian Dance Academy in Budapest, Hungary. In 1997 he was named "Best Young Dancer" at the International Rudolf Nureyev Competition. After graduating from the Academy, he was invited to join Alberta Ballet under the direction of Mikko Nissinen.
While with Alberta Ballet, he performed principal roles in works by George Balanchine, Helga Tomasson, and Christopher Weheeldon. In 2002, Nissinen invited Sabi to join Boston Ballet. He was promoted to second soloist in 2004 and to soloist in 2006. Mr. Varga enjoyed over 10 years as a soloist with the Boston Ballet performing principal roles in numerous ballets including Swan Lake, The Nutcracker, Romeo and Juliet, Don Quixote, Lady of the Camellias, Balanchine's Duo Concertant and Serenade, and Helen Pickett's Etesian.
Methuen Ballet Ensemble, an established ballet company under the artistic direction of Vanessa Voter Shaheen, has staged The Nutcracker for over twenty-five years. All principal roles are performed by members of Methuen Ballet Ensemble, whose experience totals over 150 years of classical ballet training under Ms. Shaheen's tutelage. Students of Voter's School of Dance and North Shore Performing Arts Center perform all other roles. Dancers hail from Methuen, Lawrence, Merrimac, Haverhill, N. Andover, Georgetown, Groveland, Boxford, Ipswich, Salisbury, Rowley, Newbury, and West Newbury, MA, as well as Salem, Pelham, Plaistow, Windham, and Manchester, NH.
Each year, this production has become more elaborate with stunning visual effects and custom-designed costumes by a well-known Canadian designer. All performances include a giant growing Christmas tree, a heavenly mist, and an abundance of snowfall. Note: No chemicals will be used during this production. The mist effect will be achieved with the lighting design.
Come share in the magic of Methuen Ballet Ensemble's The Nutcracker and introduce your family to the joy and spectacle of this classic dance event!
When:
Saturday, November 24, 2018 3pm
Gala Reception and Show: Saturday, November 24, 2018 6pm
Sunday, November 25, 2018 1 & 4pm
Prices:
Matinee General Admission: $26
Evening General Admission: $28