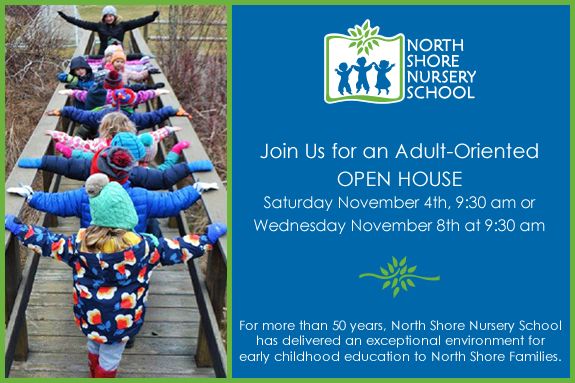 North Shore Nursery School in Beverly is now accepting applications for the 2018-19 school year. Recognized as one of the best preschools North of Boston by Boston Magazine, North Shore Nursery School invites parents of prospective preschoolers to the annual Open House, Wednesday, November 8, 9:30 a.m.
Founded in 1962, North Shore Nursery School serves children ages 2-5 years of age.
Please attend the adult-oriented open house to learn more about:
Engaging play-based curriculum that is thematic & emergent
Nurturing and highly qualified faculty
Very low student-to-teacher ratios
Exceptional child-centered facility
Warm and welcoming school community
For more information and to RSVP, please call (978) 922-8450 or visit the website at northshorenurseryschool.org
Since its founding 50 years ago, North Shore Nursery School has embraced the wonder of childhood! Serving children ages two - five years old, NSNS provides a nurturing and engaging first school experience that builds the foundation for a life-long love of learning. Students benefit from the nurturing presence of highly qualified teachers and an outstanding student-to-teacher ratio. Monthly theme based lessons are thoughtfully planned by teachers who also expand upon the emergent learning that develops from a child's natural sense of wonder and discovery. Additionally, the enrichment program includes, music, Spanish, and creative movement, as well as art and cultural programing.
The school was designed specifically for preschool age children. The bright, roomy interiors stimulate young minds and allow children to feel confident and secure. At NSNS children venture outdoors in almost any kind of weather to enjoy physical and imaginative play on the spacious playground, dig in the garden, or explore the nature trails. NSNS is a welcoming community where children, parents, and teachers come together to make the preschool years a very special experience!
Photo By:
North Shore Nursery School Beverly Farms MA
When:
Wednesday November 8, 2017 at 9:30 am
.