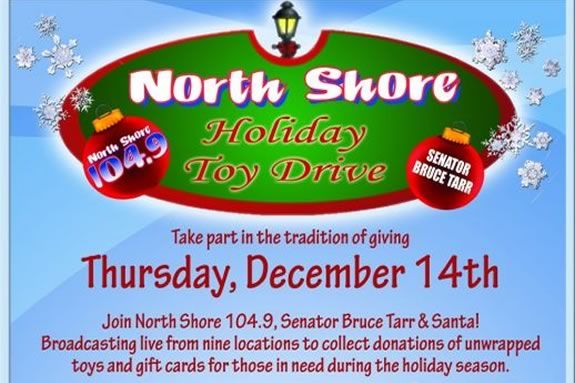 With the need for toys at an all-time high for local children, Senator Bruce Tarr and 104.9 will once again broadcast live all day from nine locations on the North Shore to collect as many toys, gift cards, and monetary donations as possible to fulfill North Shore needs. The live broadcasts are open to the public and will feature local entertainment, schools choirs and bands, great food, and a visit with Santa Claus and Mrs. Claus!
Many locations will have refreshments and of course big boxes for you to place your donations in. All of the donations collected from the North Shore Holiday Toy Drive go directly to children in North Shore communities, neighborhoods, schools, and families. Your donation will go to someone who you may see everyday and make their holiday season so special.
For broadcast locations on December 14, 2017 and drop-off locations accepting donations until December 18, use the link below.
For further information, please call North Shore 104.9 at 978-927-1049 or Senator Bruce Tarr at 617-722-1600.
When:
Thursday, December 14, 2017 6am-6:30pm