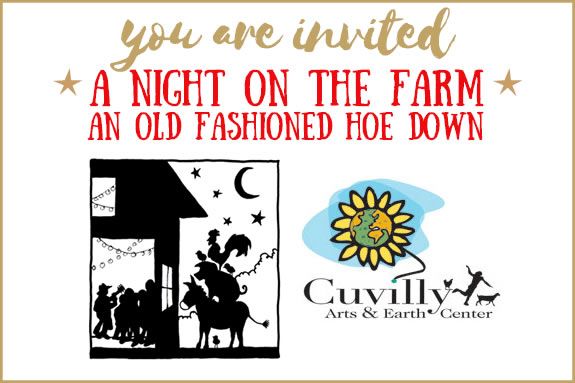 CUVILLY ARTS & EARTH CENTER will host its Annual Dinner Dance, A NIGHT ON THE FARM, on Friday, MAY 12th, 2017 at Buttonwoods Farm, Ipswich, MA. Buttonwoods Farm is a privately owned property that is generously being offered by the owners as the venue for this special event. The party will benefit the nonprofit Cuvilly Arts & Earth Center. Funds will go towards maintaining the school and property that provides children
a sustainable learning environment.
Like past years, it is sure to be one of the most talked about social events on the North Shore. The evening will resemble an old fashioned hoe down and begin with a cocktail reception from 600p-700p followed by a country buffet dinner catered by Vinwood Catering. Guests will have a chance to mingle, bid on unique paintings donated by local artists in a Frenzy Auction and dance to the sounds of the captivating Under The Culvert Band. The event will be chaired by Kate Dwyer, School Coordinator of Cuvilly Arts & Earth Center and the event committee.
Cuvilly offers several educational programs focused on teaching how to live harmoniously within the Earth community. Cuvilly is also the home to many
rescue animals. Cuvilly's animals serve as more than a back drop for the school. By having these animals on the campus they remind children that life is
interconnected and all that we use to sustain has an origin. Cuvilly's most recent endeavor being home to the Three Sisters Garden Project, sustainable organic gardening.
The funds raised from A Night on the Farm are vital in ensuring that Cuvilly can continue to maintain and grow in their mission. This mission exists to make certain that the children of the North Shore learn to respect and honor our planet and the communities in which they reside. Cuvilly Projects are created in an effort to become a model of ecological sustainability for the community. Keeping with the mission, that all life is sacred and the diversity of life is essential for the well being of the planet.
For information on how to purchase tickets or become a sponsor please contact Kate Dwyer at 978.356.4228 or CAEC@VERIZON.NET. Cuvilly is a 501C3.
Learn more or for tickets to the event at www.cuvilly.org/events
Cuvilly Arts & Earth Center has promoted environmental education and sustainability since 1983. Located in Ipswich, Mass., Cuvilly operates a farm-based pre-school and kindergarten and summer programs as well as an alternative energy site.
When:
Friday, May 12, 2017 at 6:00 PM