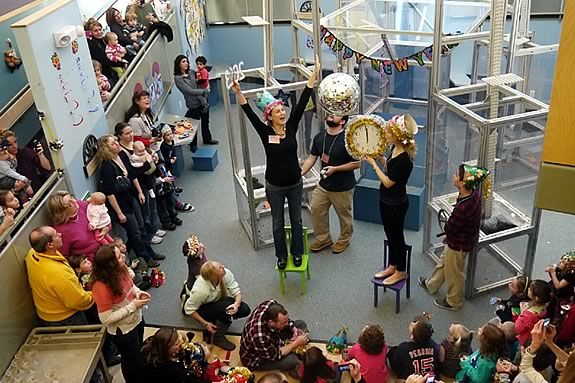 There is no better way to ring in the New Year with family and friends of all ages than at the Children's Museum of New Hampshire's annual New Year's Eve Celebration. The museum is open to the public on December 31st from 10 am – 3 pm as we create festive party hats, tie our wishes for the new year to balloons and host "countdowns to midnight" at 11 am, 12:30 pm and 2 pm.
At each countdown, a glittering ball drops 30 feet from the rafters of the museum as everyone counts down the last 10 seconds of the year. Noisemakers and confetti create an atmosphere like Times Square as "Auld Lang Syne" is played and ginger ale is served for the first toast of the New Year.
"The Children's Museum has been hosting this tradition for more than 20 years and it remains one of our most popular annual events," explained Jane Bard, President of the Children's Museum of NH. "Kids hear about the excitement of what happens at midnight and want to experience it for themselves. We create a fun party atmosphere so they feel like they've actually celebrated New Year's Eve and can still get to bed on time. It's a great way for different generations within a family to ring in the New Year together."
The entire museum is open for this event so children can play in iconic exhibits such as the Yellow Submarine, Dinosaur Dig, Kids' Café and Music Matrix. The Early Learning Landscape area upstairs is open to children ages 3 and under. The Museum Shop carries a wide variety of science kits, books, puzzles, toys and more.
Regular admission of $9 per person for adults and children applies for this special event. Seniors pay $8 admission and military members receive a 10% discount. Museum members and children under one year old get in free. Reservations are not required.
Children's Museum of New Hampshire New Year's Celebration
When:
Tuesday, December 31, 2013 10am - 3pm
Prices:
Adults and Kids: $9
Seniors: $8