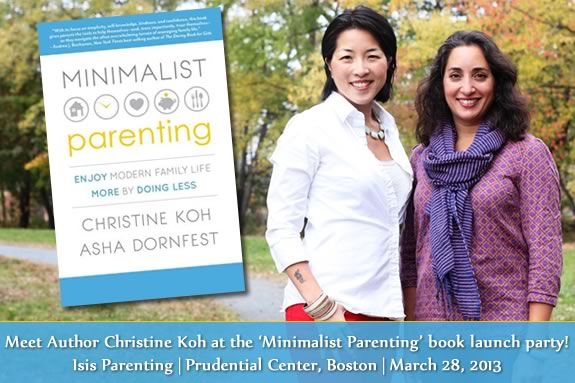 Minimalist Parenting, written by Christine Koh and Asha Dornfest is an invaluable guide to making family life simple and fun. The new book offers a fresh approach to tune into your family's unique values and priorities and confidently identify the activities, information, and people that truly merit space in your life. Isis Maternity & Parenting invites you to celebrate the Minimalist Parenting Book Launch at their Boston location inside the Prudential Center, Boston. All proceeds will benefit the March of Dimes.
The heart of the book's message is to give yourself permission to live a joyous life that's in line with your values (instead of some manufactured version of "successful" modern parenthood) while giving your kids room to grow into the strong, exceptional people they are meant to be. The authors teach us to keep the stuff that increases joy and reduce what doesn't. When you clear out the clutter in your home, your schedule, your meals and your budget, you'll find there's room for more meaningful connections.
The book begins by showing the value of a minimalist approach, backed by the authors' personal experience practicing it. It then leads parents through practical strategies for managing time, de-cluttering the home space, simplifying mealtimes, and streamlining recreation. Filled with parents' personal stories, readers will come away with a unique plan for a simpler life and with the inspiration and pragmatics to craft a family life that is uniquely and happily theirs.
A useful tool to the book, is a free web-based companion workshop, which they call a "min-camp." They'll send you a task a day for 14 days, designed to make an immediate impact without becoming a time sink.
Christine is an highly respected, brilliant and fabulous woman. She's a true inspiration to many. This special event is sure to be an awesome night.
Space is limited - order tickets today.
Minimalist Parenting will be available in bookstores in March 2013. You can preorder it on Amazon today:
Author: Christine K. Koh, Asha Dornfest
Publisher: Routledge (2013)
Binding: Paperback, 272 pages
Minimalist Parenting Book Trailer:
When:
Thursday, March 28, 2013 6:30 - 8:00 p.m.