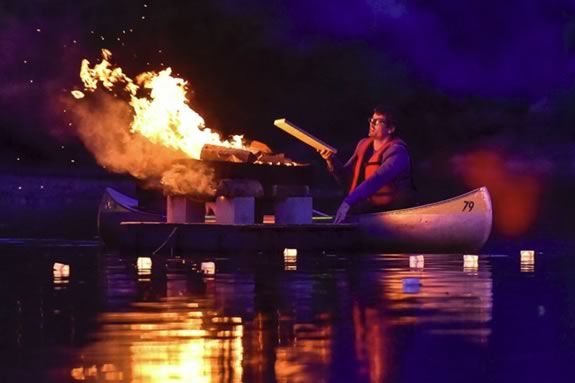 Come to Ipswich MA for a night of lights, illumination and light inspired artistry!  There will be live entertainment, bonfires and luminaries along the ipswich River, Interactive dance, art shows lasers and more!
Schedule
Bonfires on the river
Illumination along the river
Stairway to Heaven on the Shurcliff Path
Ipswich Police Dept's Black Light Alley
Ruben's Tube, Selfie Station, & Shadow Box at Memorial Green
Jeanette Steele Esposito Art Exhibit at the Hall Haskel House
Harvard Astronomers at Town Hall Field
Art Truck at Ascension parking lot
AND MUCH MORE!!!
And don't forget these events happening off the beaten path:
Poetry reading @ Zumi's 5-7pm
Haunted House @ The Ipswich Museum 6-8pm ($2 suggested donation)
MUSIC SCHEDULE
At Town Hall
At the Mural on the Riverwalk:

Ipswich Community Band 6-7pm
Kate Barry and the Nouveau Groove 7:30-9pm

At Boone Hall / Ascension Church Lawn:
At Sawmill Point:

Orville Giddings & Friends 6:30-9pm
EAT, DRINK, & BE MERRY
At the EBSCO parking lot on Union St:

Ipswich Brewery Beer Garden and food by American BBQ, The Rotary Chowder Stand, and Copper Dome Pizza

At Elm & County St.:

6:00 - 9:00 pm Robotics Club: Cider & Donuts Stand

At the Ascension Hall parking lot on County St:

5:30 - 9:00 pm Cookout by Ascension Church & Down River Ice Ceam

At the County St. Bridge:

6:00 - 9:00 pm Michele's Hot Dogs on the County St Bridge
This event is FREE.
Food and drinks are available for purchase.
RAIN DATE: Sunday, October 21st.
When:
Saturday, October 20, 2018 5-9pm