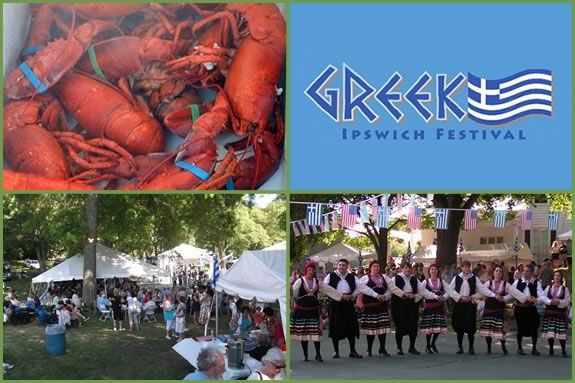 One of the longest running traditions in Greater Boston, MA and the North Shore area, the Greek Festival and Clambake has been a wonderful tradition for over 75 years. Enjoy Greek dancing, children's activities in the "Kids Zone," authentic Greek cuisine and specialties, stroll throughout the Agora "Marketplace" and experience a real Greek Taverna! Bring the entire family, friends, neighbors, and get ready to feast on some of the best seafood in New England!
The authentic Greek food and Pastries are from recipes using special Greek seasonings and handed down over many generations. With the amazing food you'll simply have to eat your way from one end to the other. The recipes for spanakopita, baklava and other Greek favorites have been passed down for generations and guarded like state secrets.
Saturday and Sunday, the festivities include activities for children and a taste of all things Greek — including live music, dancing and plenty of food — from lamb roasted on a spit to imported Greek beer.
A tradition for more than 75 years, the festival is a fundraiser for the Assumption of the Virgin Mary Greek Church. Besides the traditional Greek fare and hamburgers and hot dogs, an Ipswich twist is added with a full clambake, serving lobsters and Ipswich clams.
Don't miss this fun event!
When:
Saturday, July 14, 2018 1-11pm
Sunday, July 15, 2018 1-7pm