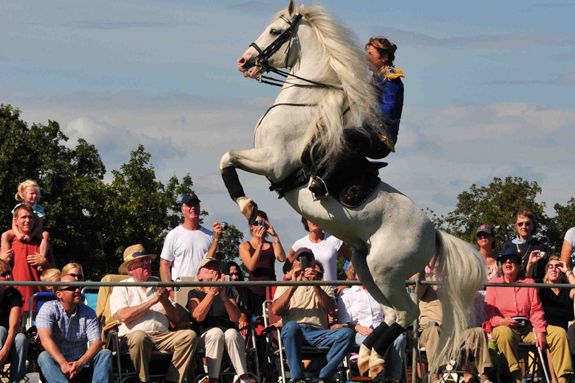 Historic New England welcomes family favorite Herrmann's Royal Lipizzan Stallions for a special engagement at Cogswell's Grant . oin the Methuen Ballet Ensemble as they tell the tale of a beautiful Mermaid who discovers a shipwrecked Prince on her enchanted island. The journey begins when a massive storm hits the sea, wrecking the Prince's boat onto an abandoned shore. Be dazzled as the Prince discovers the beautiful Mermaid and her magical sea creature friends.
The horses of the Herrmann line are among the last capable of executing the "Airs Above the Ground" maneuvers, the dramatic leaps and plunges developed as aggressive battle maneuvers in the sixteenth century, and now a beautiful display of equine grace and strength.
The shows run for ninety minutes. Please bring your own seating and bug spray. Snacks and souvenirs are available. Advance tickets available. Call for more information.
Advance tickets are nonrefundable. If a performance is canceled because of rain, tickets are valid for all remaining performances.
Advance tickets are $10 for Historic New England members ($8 for children of members), and $12 for nonmembers ($10 for children).
Day-of tickets are $12 for Historic New England members ($10 for children of members), and $15 for nonmembers ($12 for children).
Children's admission prices apply to ages six to twelve. Admission is free for children five and under.
When:
Friday, September 12, 2014 5-6:30pm
Saturday, September 13, 2014 2-3:30pm
Sunday, September 14, 2014 2-3:30pm