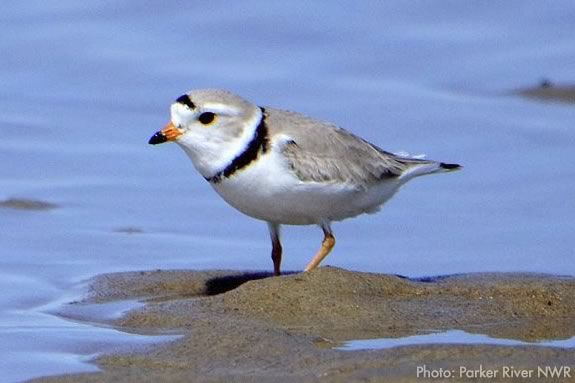 Parker River National Wildlife Refuge invites people of all ages to celebrate Endangered Species Day at the Refuge Visitor Center.  Endangered Species Day was designated to educate the American public on the importance of protecting endangered species and highlight the everyday actions that individuals can take to help protect our nation's wildlife, fish and plants.
"Endangered Species Day is a great opportunity for young and old alike to learn about and get involved in protecting endangered species and their habitats," said Refuge Manager, Bill Peterson.  "In Massachusetts, the piping plover is making a remarkable recovery thanks to efforts of conservation groups, towns, and beach visitors."
Thanks to the Endangered Species Act, local residents and visitors can now regularly see bald eagle and peregrine falcon, two species that were successfully recovered under the Act.  Another iconic species that is making remarkable recovery is the humpback whale. 
"Protecting rare species is a legacy we leave to our children and grandchildren, so that future generations can experience the rich variety of wildlife that helps to define our nation" said Mr. Peterson.
From 1-3pm, visitors can visit different activities and crafts to learn about local endangered species. 
"In addition to listed species, we are also highlighting some local species that are in decline.  The best way to recover rare species is to help them before they get listed under the Endangered Species Act", says Wildlife Biologist, Nancy Pau. 
Students from River Valley Charter School will bring Blanding's turtles they have been raising in their classroom and teach us about these species turtles that live right in our own backyard.  Katie Banks, The Monarch Gardner, will show visitors how to plant seeds for butterflies.
Refuge volunteer, Emmalee Tarry will give presentations on whales of the Gulf of Maine with special emphasis on Right Whales, starting at 1 and 2pm.
At 3pm, the Refuge will announce winners of the first annual Beach Birds Youth Art Contest.  The Refuge received 64 artworks for the 1st Beach Bird Art Contest. 
"We are very excited about enthusiastic participation by local youth, and the creative artwork and messages "  said Ms. Pau. "We're looking forward to seeing these signs on the beach this summer and fall". 
Winners will be selected from 5 age categories, Kindergarten, 1-3, 4-6, 7-8, and 9-12 grades.  Each winning artwork will be made into signs to help educate Refuge beach goers how they can help birds that use the beach. The grand prize winner will also have the opportunity to help a Refuge biologist do a plover survey on the Refuge beach.
When:
Saturday, May 19, 2018 1-4pm