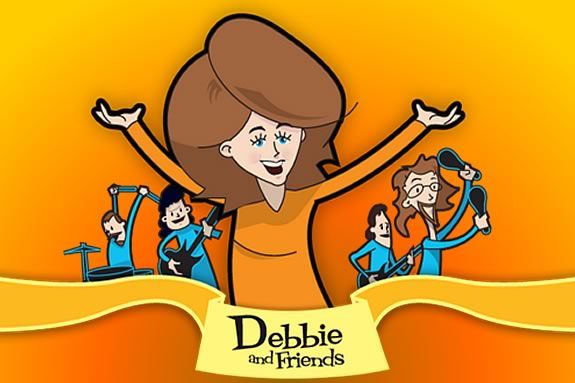 A live Debbie & Friends show is a trip for the entire family—a joyful jaunt through a variety of styles, from straight-ahead pop, to country, to rock, to reggae, all delivered by a band of musicians who are clearly there because they love it.  This full-band performance will include both Debbie and Friends songs and some classic favorites, with a cast of top-shelf musicians from Berklee College of Music, including Debbie Cavalier on vocals and keyboard, Rory McKenzie on bass, Eric Salt on guitar, Bill D'Agostino on drums, Mike Carrera on vocals. Special guest performance by two-time Grammy-winner, Bill Harley! This is a family show you won't want to miss!
Puppets and cartoons are part of every show. Winner of more than 20 National Awards including CBS Boston Best Local Children's Musician & 
Nickelodeon Parents Pick Award. Debbie and Friends also has a song on a 2011 Grammy Award-Winning CD for Best Children's Album! Debbie's shows are engaging, interactive, and fun! 
ALL proceeds from this show (including tickets and merchandise) will benefit the Sandy Hook School Support Fund, which has been set up by the United Way to provide support services to the families and community affected by recent events in Newtown, Connecticut.
The Debbie & Friends YouTube channel is chock full of entertaining video and music an is definitely worth the visit!
Walk Away Video
When:
Sunday, January 6, 2013 10:30am