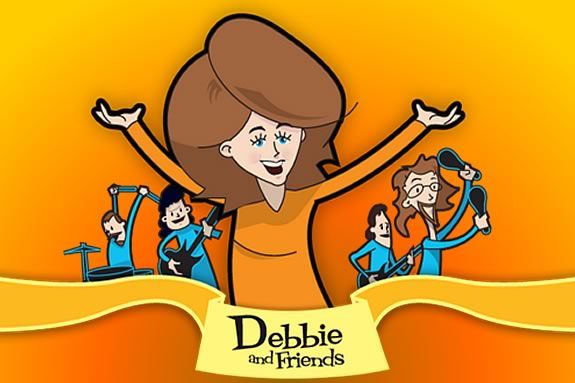 Debbie Cavalier (former Gloucester Public Schools Music Teacher), and her band Debbie & Friends use original songs to tell stories that children know and love. Her songs are joyful, the music is catchy and singable, the stories are fresh, and she and her band's energy on stage brings out the kid in everyone. Come join us for a fun time!
A live Debbie and Friends show is ideal for families. Kids love her energy, and appreciate the interesting array of music and instruments that she brings to each show, including keyboard, all sorts of hand percussion, energetic and sometimes zany backing vocalists, saxophones, banjo, fiddle, flute, and whistles.
Each performance includes a variety of styles, from straight-ahead pop, to country, to rock, to reggae, all delivered by a band of musicians who are clearly there because they love it. The music is also accompanied with original animated videos and even some puppeteering! Kids are encouraged to sing, dance and participate in the show, making each performance unique.
Debbie and Friends have been part of the children's music scene for quite some time and have many achievements under their belt. Most recently their anti-bullying song 'Walk Away' is on an album that recently won a Grammy.  Other awards include the 2011 CBS Boston Best Local Children's Musician, the 2010 Nickelodeon Parents Pick Award, 2010 Boston Children's Music Performance Award. The Debbie & Friends YouTube channel is chock full of entertaining video and music an is definitely worth the visit!
This concert will appeal to children aged 2-7.
Walk Away Video
When:
Saturday, March 9, 2013 10:30am - 11:30am