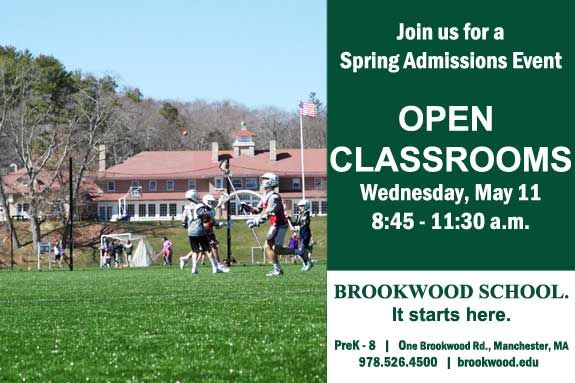 Brookwood School is excited to announce its upcoming Spring Open Classrooms event for prospective families. On Wednesday, May 11 from 8:45 to 11:30 a.m. interested parents of children entering grades PreK through 8 are invited to the school to enjoy a morning of sampling classes. A full schedule of classes will be available during the event and will feature a variety of disciplines and grade levels.
This is a great way to get to know the school and have a first-hand look at Brookwood students and faculty in action. The school currently has openings in select grades for the 2016-2017 school year; please contact the Admissions Office for specific information. Taking part in the Open Classrooms is also a great way of getting a jump start on next yearís admissions process.
Please RSVP to Kate Fuge, 978-526-4500 ext.6203.
Visit brookwood.edu to learn more about Brookwood, our curriculum, and our many signature programs. For complete details on the admissions process, visit: Brookwood Admissions.
If you are unable to attend the Open House, but are interested in learning more, please call the Admissions Office to schedule an individual visit.
Brookwood is located on the Beverly/Manchester line just minutes from Exit 17 off Route 128. 
When:
Wednesday, May 11 from 8:45 to 11:30 a.m.