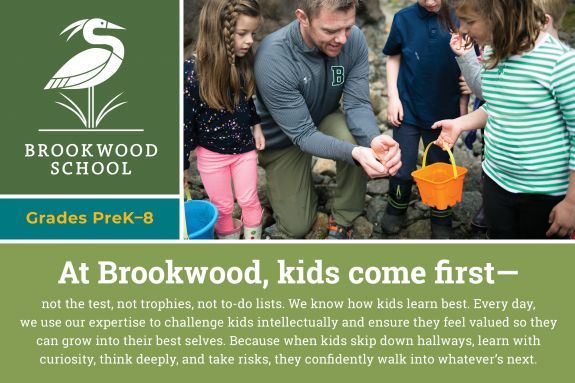 Brookwood School is excited to announce its upcoming Open Classrooms event for prospective families. On Monday, January 28, 2019 from 8:45-11:30 a.m., interested parents of children entering grades PreK through 8 are invited to the school to enjoy a morning of sampling classes. A full schedule of classes will be available during the event and will feature a variety of disciplines and grade levels.
At Brookwood, kids come first—not the test, not trophies, not to-do lists. We know how kids learn best. Every day, we use our expertise to challenge kids intellectually and ensure they feel valued so that they can grow into their best selves. Because when kids skip down hallways, learn with curiosity, think deeply, and take risks, they confidently walk into whatever's next.
If you are unable to join us at either event or would prefer an individual tour during the school day, please call the Admissions Office at 978-526-4500.
OPEN CLASSROOMS
Monday, January 28, 2019 at 8:45 a.m.
Brookwood is located on the Beverly/Manchester line just minutes from Exit 17 off Route 128. 
When:
Monday, January 28, 2019, at 8:45 a.m.

.