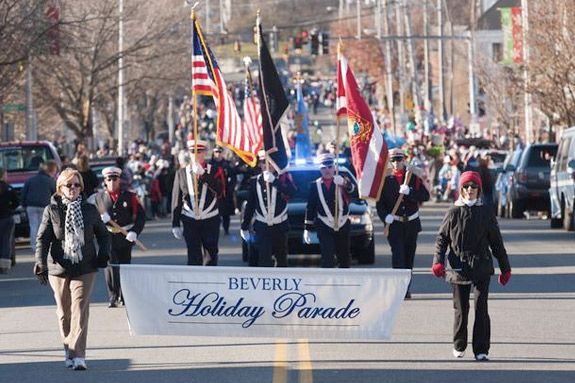 Beverly's 69th annual Holiday Parade will be held Sunday, November 27, 2016. Marching bands, log rollers, majorettes, fire engines and dozens of community floats will join the guest of honor, Santa Claus, to make this a spectacular parade! It's also a tradition for the parade committee to designate local organizations to benefit from items collected at the parade as well as portions of the funds raised at the event. The parade asks that you bring a canned food item to be donated to Beverly Bootstraps Community Services.
The parade starts at Cummings Center, goes up Elliott, straight up to Cabot Street, a right onto Cabot Street and then takes a right at Broadway, down to Rantoul Street and back to Elliott Street. The bands stop at City Hall and play a song for the viewing stand.
The parade will form in the parking lot at the Cummings Center, 181 Elliott St., departing at 1:30 p.m. The parade will go along Cabot and Rantoul Streets and then return to the Cummings Center.
Everyone in the community – families, schools, organizations, neighbors, businesses – is welcome to participate in the parade by entering a float, a vehicle, a band or other entertainment such as dancers, bike riders or gymnasts. As usual, trophies will be awarded to the best floats! The parade kicks off from the Beverly Cummings Center at 1:30 sharp and makes a loop up Elliott Street, down Cabot, on to Broadway and then Rantoul to end up back at the Cummings Center.
Beverly also has a very strong tradition of pulling together to make things happen and in this tough economic climate when fundraising is a challenge, the Parade Committee is working hard to bring you the same high quality entertainment that families have come to expect for 65 years. Many parade watchers think that the bands and the entertainment participate for free or that the businesses in Beverly underwrite the total cost of the parade. While many performers are free, many others charge for their appearances. The committee invites every family and business that comes out to enjoy the parade to help pay for it by sending a check made out to the Beverly Holiday Parade Committee c/o Wendy Kelley, 43 Odell Ave, Beverly, MA 01915. The committee appreciates any donation and will recognize individuals or organizations that donate $1000 with a special banner carried in the parade with their name on it (or you can carry it yourself!)
For more information about the Holiday Parade, contact Wendy Kelley.
Photo By:
Beverly's Holiday Parade Committee
When:
Sunday, November 27, 2016 1:30pm