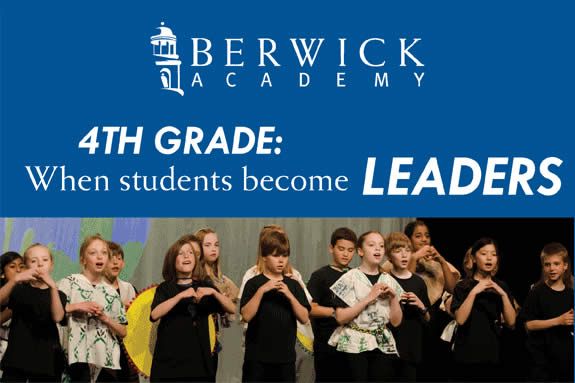 4th Grade - When Students Become Leaders
Have you considered Berwick Academy for your rising 4th grader? Learn more about our dynamic fourth grade program during an informal parent event on Friday, May 20 at 8 a.m. Experience our PK-4 Community Meeting followed by a parent coffee with our Lower School Director, fourth grade teachers, and current parents. This is a great opportunity to learn more in a casual setting and hear from our current parents about why they chose Berwick. Following the coffee parents are invited to sit in on a fourth grade class for a more in depth look at our program.
Tuition assistance is still available for fourth grade applicants. Please inquire for more information.
Please RSVP online or email admissions@berwickacademy.org or call 207-384-6300.
The essential question we aim to answer through our Fourth Grade curriculum is "What must one have in order to explore the unknown and to take the risks involved in the discovery of new things?"
Fourth grade offers a critically important experience which fosters the development of confident people and independent learners ready to take on their next step to middle school. The school year begins with a focus on wellness, accepting differences, and making good choices, which continues throughout the year. Being at the "top" of the lower school, our students practice supportive leadership skills through our Ambassador Program. 
"We are fortunate to work at an independent school like Berwick where we have more freedom to teach what we feel is important in the context of our lower school curriculum maps. This provides opportunities for children to practice empathy, to think about and develop their own character and integrity. When this is done successfully, true academic learning is more apt to occur. Great teaching encourages students to take responsibility for their own learning and their own actions."  (Roz Witherbee, Fourth Grade Classroom Teacher)
Berwick Academy is Maine's oldest, independent Pre-K through Post Graduate private school. We draw our students from Maine, seacoast New Hampshire, and north shore of Massachusetts. Our community is dynamic, offering challenging academics, competitive athletics, and creative arts programs. Members of the community operate within a context of caring and respect as we pursue our quest for "useful knowledge" as "one school with three divisions." Students and faculty are encouraged to expand their horizons by balancing academics with athletic, dramatic, and musical options.
When:
Learn More about Grade 4 Friday, May 20, 2016 at 8 a.m.