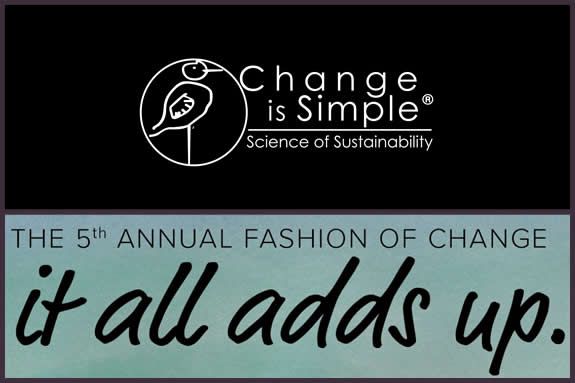 Change is Simple, Inc., a local nonprofit dedicated to inspiring lifelong social and environmental responsibility in children, will hold its 5th annual annual Fashion of Change fundraiser on Saturday, September 30th at Cell Signaling Technology in Danvers, MA.
This year's event theme, 'It All Adds Up' highlights how small changes to our daily habits can have large impacts on our overall environmental impact. This summer, local students who have been a part of Change is Simple Programming in schools, are working in collaboration with Artcie Studios in Hamilton to design a piece that brings to life these simple solutions - and their impact.  The design will be unveiled by the students on the night of the event.
Held in the lush rainforest atrium of Cell Signaling Technology, Fashion of Change has sold out every year, with over 325 attendees in 2016. The evening includes food by Wenham Tea House/Fresh Food Catering, beer from Ipswich Ale Brewery, wine from 90+ Cellars, music by Jay Foss Music, an online and a live auction, and more. All proceeds go directly to educating children about sustainability.
This year's sponsors include: Cell Signaling Technology, Beverly Crossing, Northshore Magazine, Artcie, and Overwatch Property Solutions. Attendees must be over 21. Sponsorship opportunities are still available and tickets are on sale now:  $75; or $200 at the Benefactor Level which includes a champagne reception with founders, sponsors and supporters prior to the event. For more information, call 978-344-2155, email lbelmonte@changeissimple.org or visit: www.changeissimple.org/fashionofchange
About Change is Simple:
The organization's mission is to instill lifelong social and environmental responsibility in children through experiential and project-based learning that inspires critical thinking and action for healthy people, planet & community. They partner with schools to bring sustainability education to elementary schools in Eastern, MA, and have engaged over 17,000 local students to date! Among other awards, Change is Simple, Inc. won the Greater Beverly Non Profit of the Year Award in 2016. For more information visit changeissimple.org.
Change is Simple is a 5013c nonprofit organization located at 8 Enon Street, Beverly, MA.
When:
Saturday, September 30, 2017 at 7pm