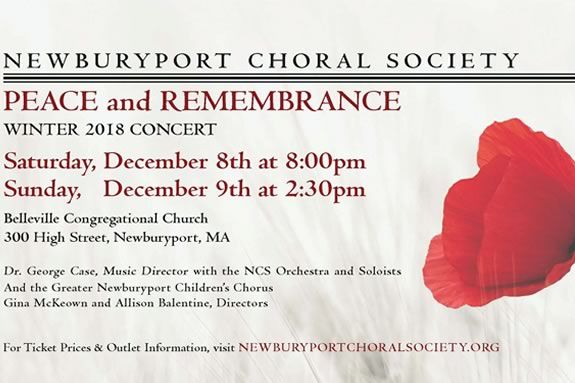 The NCS Winter Concert features the 140-voice chorus, professional soloists, orchestra, and the Greater Newburyport Children's Chorus, all performing classical, traditional and "sing-along" seasonal favorites!  our Winter 2018 Concert "Peace and Remembrance," a joyful and reflective evening to ring in the holiday season, with music that will appeal to all ages and musical tastes!
The concert will explore the concepts of peace and remembrance through music of the season, both secular and sacred.  The centerpiece of the concert is the Messe de Minuit de Noël by Marc-Antoine Charpentier. This masterpiece from the French Baroque era incorporates French carols within the framework of a traditional Christmas Oratorio/Midnight Mass.
We will also premiere a very special piece by Utah composer Andrew Maxfield commemorating the centenary of the signing of the Armistice after WWI.  The Newburyport Choral Society will be the only chorus in Massachusetts to perform this piece in 2018 and will join choruses across the country in a special nationwide presentation of this work and this important commemoration!
And of course, our concert will include favorite carols of the season, professional vocal soloists, the NCS Orchestra, accompanist Dr. Kirsten Helgeland and the delightful voices of the Greater Newburyport Children's Chorus:  All under the baton of NCS Music Director Dr. George Case.
THIS WILL BE A MUSICAL EXPERIENCE NOT TO BE MISSED!
When:
Saturday, December 8, 2018 8pm
Sunday, December 9, 2018 2:30pm