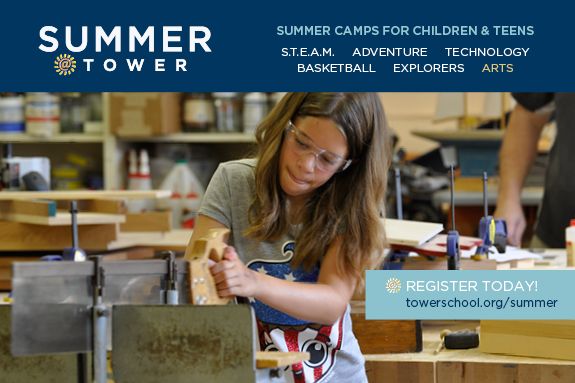 Welcome to Summer at Tower! We can't wait to welcome campers back to Tower this summer. Our 2016 summer camp brochure, filled with exciting options for children, is available here. If you have any questions, please reach us via email at summer@towerschool.org. We'll get right back to you.
Our online registration form is available here.
Below, you'll find a list of our 2016 camp offerings for campers of different ages. 
SUMMER AT TOWER 2016 - JULY 5-AUGUST 12, 2016
AGES 3-9
Explorers  
AGES 9-14
Arts 
Technology 
S.T.E.A.M.
AGES 9-11 & 12-14
Basketball
AGES 10-14
Adventure - Classic
Adventure - Overnight
C.I.T.
We are also excited to offer our updated Counselor in Training (C.I.T.) program, geared toward building leadership skills in high school-aged students. CITs attend leadership meetings, team-building exercises, and child development classes, then assist counselors to create an amazing day for young campers.
Our staff consists of highly qualified, enthusiastic teachers, counselors and swim instructors–all of whom have experience teaching and inspiring children. We invite your children to join us.
Questions? Contact us at summer@towerschool.org.
READER'S CHOICE AWARDS 2013, 2014, 2015 - SUMMER at TOWER
Each year, the Marblehead & Swampscott Reporters support local businesses by providing an opportunity for readers to vote for their favorite services, restaurants, stores, and...summer camps! Summer at Tower was awarded the Bronze in the summer camp category in 2013 and 2014, and the Silver in 2015. We are honored. Thank you.