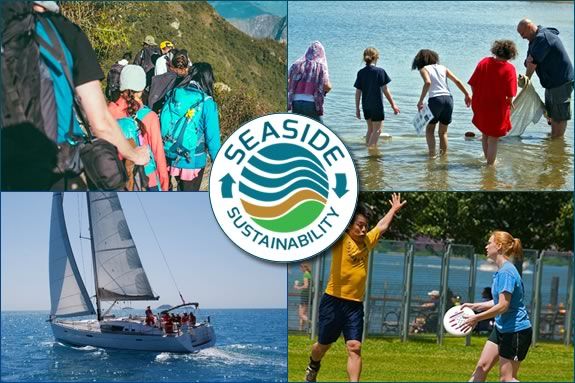 Seaside Sustainability programs are built on a foundation that emphasizes the importance of sustainability in harboring an earth in which future generations will be able to thrive.  Seaside Education Adventure (SEA) was the first program to grow out of this idea, and pairs marine ecology ideas with hands-on nature learning. This combination introduces local youth to the short and long term effects of a variety of ocean threats.  These boat-based trips take students out onto the water to learn about oceanography, water sustainability, and ecosystem balance.
Save 10% off any program. Use Promo Code: SEASIDE17
This year, Seaside Sustainability is offering two SEA programs:
This week-long session takes a new approach to learning how to sail and learning about the ocean.  New and experienced participants will sail on the Frayed Knot, a fully-outfitted 50 ft yacht to learn the in's and out's of yacht sailing.   After learning the ropes, new skippers will learn about their own roles in the relationship between humans and the natural marine environment by collecting and analyzing marine debris and water quality samples. We'll also get up close and personal with the marine environment when we snap on our masks and snorkels to explore the wonders of the underwater world!
SEA Yacht Sailing Dates:
Week 1 (Ages 8-15) July 17-21, 2017
Week 2 (Ages 8-15) July 24-28, 2017
In this exciting hands-on program for youth, participants will get their feet wet, their hands dirty, and will find their minds reeling as they learn about the vital role the ocean plays in their daily lives. They will learn first-hand how the marine biology and ecology that we so often take for granted are interconnected with—and influenced by—human actions. SEA's Marine Life Exploration is one of two ocean-based summer programs which offers a unique, fun, safe, and exciting approach to exploring the marine ecosystems surrounding Manchester Harbor and beyond!
SEA Marine Life Exploration Dates:
Week 1 (Ages 8-15) June 26-30, 2017
Week 2 (Ages 8-15) July 10-14, 2017
Other Programs
Seaside Sustainability also offers fun and engaging sport and land-based programs that emphasize the connection between personal health and how these behaviors and mindsets extend directly to environmental threats and mitigation. Offered opportunities to explore these connections include a week long Intro to Backpacking Expedition ($390) in the Monadnock-Sunapee Greenway for teenagers; pick-up Ultimate Frisbee ($89) leagues for youth and teens in Magnolia; and Field Hockey (prices vary, see below) for youth and teens in Manchester.  
Intro to Backpacking Dates ($390): 4 days and 3 nights, June 27-30
Ultimate League Dates ($89 per season): Weekly on Wednesdays, June 28th - August 23
Field Hockey League Dates ($89 per season): Weekly on Wednesdays, June 21 - August 16
Beginner-Novice Field Hockey Clinic Dates ($259): Mon-Thurs, July 31 - August 3 [with rain date Fri Aug 4)
For more information, please contact Seaside Sustainability's Director, Eric Magers at magerse@seasidesustainability.org or by phone at 978.879.9769