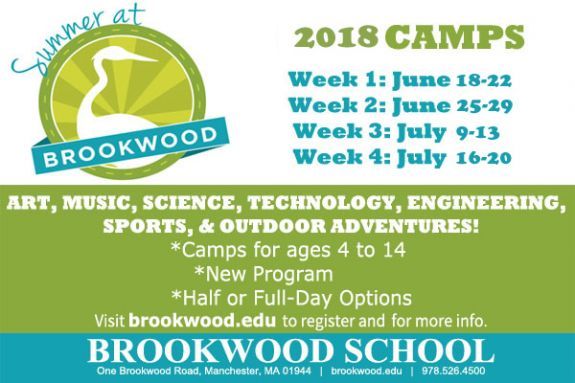 Welcome to Summer at Brookwood 2018! Online registration is open.
Summer at Brookwood is a coeducational summer camp for students entering Pre-Kindergarten through grade nine. Summer at Brookwood creates a fun and supportive environment in which students thrive in athletics, enrichment and the arts. Kids develop friendships, the body, the mind and the imagination. Our summer camp staff - many of them Brookwood teachers, coaches, and alumni - are 100% committed to fostering a fun, safe, and exciting environment for your child.
We are so excited to share all that Brookwood has to offer during our Summer at Brookwood 2018 camps! As always, Brookwood prides itself in running some of the most unique full- and half-day classes that will keep your child engaged while proving to them that summer learning CAN be so much fun.
Brookwood prides itself in hiring professional staff members who have several years of experience in the specialized fields in which they are teaching. The camps will provide your child with a perfect mix of focused educational time, individualized attention, free exploration, and more. We'll even ensure that children who attend Summer at Brookwood get the time they need throughout the camp day to have some social/recess time with their new camp friends. Summer at Brookwood is proud to lead the way in delivering specialized summer camps in the North Shore.
Please take some time to explore the possibilites for your child during the summer of 2018. Don't delay ... space is limited in all of our camps due to their very specific nature. 
Visit our Summer at Summer at Brookwood 2018 Introduction to learn how our camps run and all the logistical details you might need to know.  
Take a look at the Summer at Brookwood Schedule-At-A-Glance to get an overview of the specialized camps we will offer during the Summer of 2018.
The Summer at Brookwood Camp Guide describes all the camps being offered.
As always, if you have any questions, please feel free to get in touch with me. I'm happy to help you through the registration process!
This summer Brookwood Summer offers the following four sessions:
Week 1: June 8 - 22
Week 2: June 25 - June 29
Week 3: July 9 - July 13
Week 4: July 16 - 20


Be sure to check out new and returning programs which include the following:
Outdoor adventure
Nature's Palette
Sleeping Beauty Ballet
Girls' Field Hockey
Maritime Adventure
Hip Hop
Boston Children's Theater
Inspired Artists
Brookwood in Revue Pit Band
Girls lacrosse
Eric Carle
Rowing
Active Exploration
Splish Splash
Minecraft Magic: Programming in Minecraft
Lego Land
Inspired Artists
Brookwood Summer Olympics
Brookwood Summer: Counselor-in-Training for ages 15 and 16.
Please contact Justin Zappia at 978-525-6244 or with any questions.